The Handy client is a separate program from the Handy Server. The Handy client runs under Windows, and provides an alternative to the web browser for working with your address books. With the Handy client you can use both local address books stored on your own computer, and web address books from the Handy Server. When using web address books you get all the benefits of using the Handy Server: multiple user access, per-user permissions, web browser access, etc...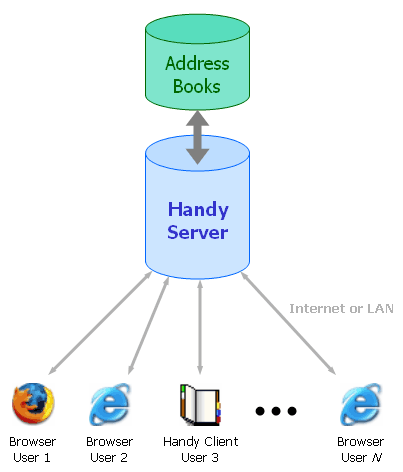 Using the Handy Client with the Handy Server
When using the Handy Server your address books are stored in a centralized database, so multiple users can view, edit, and administer the address books at the same time. Using the Handy client offers a few advantages over the web browser interface:
| | | |
| --- | --- | --- |
| | | Because your address book is stored in local memory, many operations are faster as you don't have to access the server over a LAN or the internet |
| | | The "Live Update" feature keeps your address book automatically updated without having to "Refresh" a browser |
| | | More printing options (Envelopes, Labels, List, or Details) |
| | | Advanced importing and exporting capabilities |
| | | Can be used as a phone dialer |
When using the Handy client on a local address book only one Handy client accesses the data: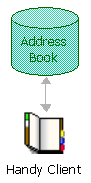 Using the Handy Client with a Local Address Book
When using the Handy client you can easily switch between using any address book, whether it is a web address book, or a local one.
For more information on the Handy client, see the screen shots, feature list, installation instructions, and online demo. To try out a copy for yourself, visit the Handy Client download page.